Every other year, the CalArts Graphic Design faculty and grad students go on a three day retreat to 29 Palms, at the edge of Joshua Tree national park in the Mojave desert. It's a chance to unwind, build community amongst the faculty and grad students, and take a step back from practice and pedagogy to reflect on the why and wherefore of graphic design. New faculty member Anther Kiley reports:
Having been promised a 'true CalArts experience,' I embarked on this year's desert retreat prepared to be both enlightened and entertained. I was not disappointed.
The centerpiece of this year's proceedings was a presentation and workshop by Dutch-born designer and educator Willem Henri Lucas. Henri teaches in, and until recently chaired, the Design|Media Arts Program at UCLA. In an engaging and personable presentation, he took us on a tour of his practice, from early personal work on the themes of love and war, to recent book design collaborations with prominent artists. Particularly impressive (in concept, logistics, and physical scale alike) was a collaboration with artist Pae White, a meticulously designed, 720-page artist book presenting a strange and wonderful selection of ephemera.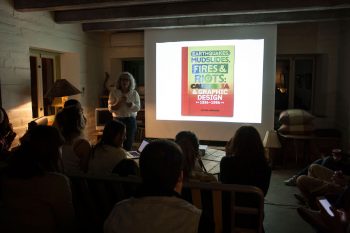 In his workshop, Mapping the Desert, Henri asked participants to analyze a 10×10 inch area of the desert through a process involving photography, drawing, and writing.
Faculty member Louise Sandhaus also offered a fascinating 'behind the scenes' look at her soon to be released book, 'Earthquakes, Mudslides, Fires & Riots: California and Graphic Design 1936-1986.' She treated us to some highlights — Boston and Boston, the Neuharts, Barbara Stauffacher — and spoke about the challenges of research in untrodden territory, the politics of curatorial decisions, and the challenge of doing justice to the tone and spirit of the subject matter in the design and organization of the book.
Grad students and faculty shared the stage for a night of pecha kucha-style mini presentations on the theme 'I Heart Design.' Particularly entertaining were some surreal interludes by the faculty, who uniformly misinterpreted the brief and presented on everything from the history of patterns, to punk rock singles covers, to films about bears.
Less academic pursuits were also taken seriously. Among the highlights was a hike in the desert, through an otherworldly landscape of bizarre rock formations and strange plants. Faculty member Mr. Keedy, inexplicably equipped in a Cuban revolutionary-style cap and fingerless gloves, dazzled (and occasionally concerned) onlookers with enthusiastic feats of mountaineering. Later, faculty member Tom Bland cooked an impressive feast and then dominated several card games (under the various noms de guerre 'Hurricane Bland' and 'Blandaconda').
In a final episode, a group of grad students and faculty were treated to a very rare tour of the studio and archive of Tom Carnase, a mid-century type design and lettering legend, former design partner of Herb Lubalin, and co-founder of the World Type Face Center (WTC), who now lives in Palm Springs.
All in all, I'm writing up my first 'true CalArts experience' as a decided success…