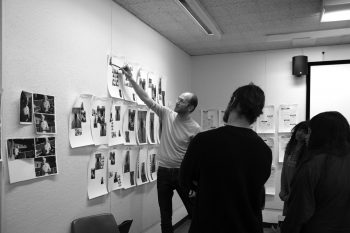 The editorial project "Day ­After Reading" was created by Ludovic Balland, the second issue of "Day After Reading" was produced during a five-day practicum workshop at CalArts.  
Over the five days, five distinguished citizens of Valencia were interviewed about what they read the day before, about their reading habits and the city in which they live. These included Ed Fella, graphic designer and former educator at CalArts; John Studden, lettering artist and founder of L.A. signs and graphics; Laurene West, Councilmember for Santa Clarita; Luciano Perna, artist and photographer; and Jim Holt, senior staff writer at Santa Clarita Valley Signal. The interviews deal with how people remember information perceived in the daily media. 
All information exists according to a story, to a series of facts. Information in daily media is defined by actuality. "Day After Reading" provides a new way of reading. Its reader perceives news through the eyes of somebody else. The reader gets a personal perspective of news and can relate to another personal memory. "Day After Reading" emphasizes news from its everyday use and highlights an individual time frame. The news that people remember is no longer related or dependent on actuality; instead they are part of somebody else's brain and eye. "Day After Reading" is a portrait of American readers and of the context they are living in.
The workshop produced a printed newspaper of 16 pages including the interviews of each personality, with documentary photographs and a series of posters with select statements. The interviews were also published online everyday at www.dar-news.com.
During the workshop, two groups of students were in charge of developing a series of posters and the newspaper. The newspaper group was in charge of developing a visual system, based on the existing grid of the "Day After Reading" newspaper, which allowed them to emphasize some specific chapter and quotes from each interview. Images were laid out separately in order to create an interesting sequence for each interviewed personality. The group in charge of the series of posters developed a typographic system to emphasize and typeset a selection of specific quotes from each interviewed personality. The newspaper and the series of posters were designed in black and white.
Ludovic Balland's Day After Reading Diary
Day 1.
The workshop started directly by interviewing Ed Fella. No time to say hello to the students and I was already talking with Ed about how people consume news, how he remembers the news from the day before, O­­­­bama's speech and, amongst other things, how he is dealing with the school today. He had very interesting answers. "Day After Reading in Valencia" at CalArts was starting!
Once the interview finished, the transcription started. I finally had a chance to talk and present myself to the students and introduce them to the project.
It's not easy to start so directly without knowing anyone. I felt a little lost, inside that room… which I later learned was named the "Grad Crit room"…The room was quite small, without windows. It's strange but I somehow liked it. Comfort and space do not necessarily produce better design. Good design starts with a great project and a bunch of motivated students, which seemed to be present.
Embassy Suites was my hotel next to the school.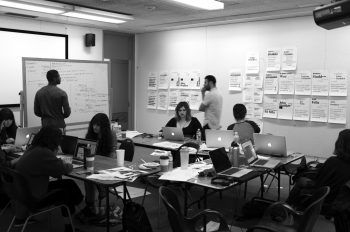 Day 2.
Today we had two interviews. The interview of John Studden, a graphic & sign designer, and Laurene Weste, the Councilmember of Santa Clarita. It was a very packed day, in between transcription and management of student results from the first day. The John Studden interview went very well. He is also a type designer with an interesting opinion on the topic. He is talking a lot less than Ed. We are sitting in front of a church in Valencia, a church that looks like a theater and houses a cafe in the underground entrance. Sons of Anarchy was apparently played there, or at least some of the scenes. That is America. A complete contrast! Church and a very dark TV show on the same stage. That's why I like America, because of those contrasts. In the afternoon we met Laurene Weste. Amazing. We are all nervous. Mallory; taking photographs, Jessica and me. We are sitting in one of the meeting rooms and waiting for her to arrive. Robert E. Gould, the director of parks, recreation, and community services at the city of Santa Clarita, is with us, talking about his son, who was at CalArts too, learning cinema. And suddenly there she is. In a fantastic Indian leather jacket, completely unexpected. Contrast again… I start to present the Day After Reading project but she has immediately interrupted me saying she doesn't want at all to talk about news, because that is what she is dealing with all day long. I felt a bit stressed. She replied with no after no. She is a very strong woman and that's why I like her. Slowly and thanks to Robert she started to talk and open a door, more and more, then a second door and started expressing many interesting points of view on the newspaper and the roles of news for her as a Councilmember. It is the only interview I made where I got such a long answer to such a short question! In fact, she covered all my questions with a single speech. Back at school we are proud. We made it and today I learned a lot about Santa Clarita, probably more than half of its inhabitants. I remember her talking about the big hug she had with Obama, or that she would call the newspaper in the morning if they would be late with delivering it, her view on architecture and many other things.
The group designing the posters is in crisis mode and me too. Everybody started the project in a very free and creative way. That's basically good and important for the spirit of the team, but I'm looking for system and concept. So we tried to talk about that, what it means, a concept versus a composition. I told them we are not artists, we are machines. Everybody laughs. We had a long discussion about that. I fell asleep hoping that we can find a common ground the next day.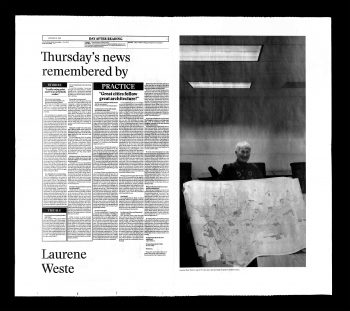 Day 3.
Saturday. We are meeting Luciano Perna at his place. Luciano Perna is an Artist and photographer. I didn't know him before, as with the other interviewed persons. We are having a great time with him. He and Darcy, his wife, are very interested in the project. They are living in an amazing art collection and we could have a look at some very valuable samples of it. We stayed for a long time and he made my day offering me a real Italian coffee, for the first time during this trip to America. He himself is from Italy and I like his accent. Back at school we have a long day in front of us. I feel tired, but the afternoon just started and I need to figure out the newspaper and posters concept. It's not easy. Everybody is engaged and working very hard, but we still don't know where to go exactly. It's becoming late and once again we are having a long discussion about typographic conception and why it's so important. I want them to be able to explain their idea on the phone and somebody else can visually translate it without producing a big mess. Simplicity is complicated, also for me. We go home at 10 pm. It's late and everybody is tired. But tomorrow is our free day, Sunday! Finally.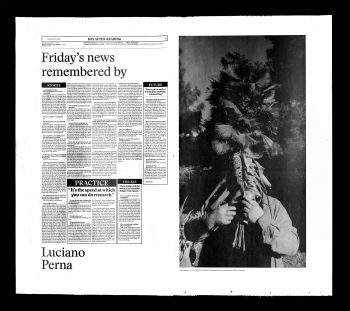 Day off.
Sunday. What I did on Sunday is something very simple, something a local would do… I went to a very good Korean restaurant and to a Thai massage in Newhall, which made me sleep for 13 hours!
Day 4.
Monday. Interview with Jim Holt, the journalist of the Signal  Jim's TV crew came to visit and make a story about us. They are filming and interviewing; as are we. Jim brought good energy in the team by telling us stories about newspapers. It's captivating. We continue to design our poster and newspaper, slowly arriving at a design concept and establishing a plan on how to edit the material.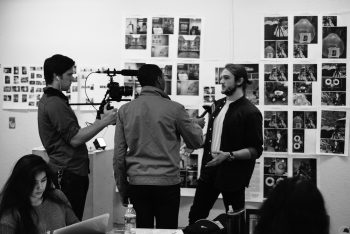 Day 5.
Tuesday, the last day. This was a long day……I stopped by the printer with Jessica in the morning to check their print profile and pick a paper for the print. I wanted to make sure its printed in black, really black. We started designing the newspaper and the posters at 1 pm and left the school at 4:30 am. Design is done; pdf files are sent to the printer. We have selected one poster series, which was made through a collaboration between several students. We waited very long to finally decide. I was asking to develop all the details, as well as asking to mix some ideas coming out of different sketches. And it worked. They finalized it and it looks amazing! We made a very long design journey and it feels almost like being inside the "Situation Room"!
The day after
I woke up at 10 and started to check the pdfs we have sent to the printer in the middle of the night. Jessica and I adjusted the last mistakes while receiving the proof. At 4 pm they started printing. It's over and it looks so good! We are launching the newspaper at the LA Art Book Fair downtown.
A big thank you to all the students of my workshop and to Jessica Lee, my teaching assistant. We made an amazing project and managed to realize all of its diverse parts. We edited the interviews online everyday (www.dar-news.com), offset printed a 16 page newspaper on 13 inch broadsheet format and produced a series of posters, made from the best quotes of the interviewed personalities of Santa Clarita. I will come back. Thank you for inviting me and for a great time I had here.
Read more about the workshop in the Santa Clarita Valley Signal:
Student participants:
Javeria Ali
Jenny Earnest
Stedman Haliday
Nick Humbel
Dasol Jung
Miyu Shirotsuka
Mallory Strong
Brian Thompsen
Monique Wilmoth
Jessie Zo
Teaching Assistant:
Jessica Lee