CalArts faculty members Roman Jaster (BFA '07) and Nicole Jaffe are helping the MAK Center (a multi-disciplinary center for art and architecture headquartered in the Schindler House) break new ground in the digital sphere with the recent launch of Schindler Lab, an online publication and special projects initiative.
Roman and Nicole run the design studio Yay Brigade and have had a productive run collaborating with the MAK Center. They redesigned their main website last year and produced collateral materials for various fundraisers and exhibitions. Roman also worked with them on two print publications.
Schindler Lab was conceived by editors Anthony Carfello, Sara Daleiden, and Kimberli Meyer as an exhibition initiative and online publication documenting artists' responses to Rudolph M. Schindler's 1922 West Hollywood residential masterpiece, the Schindler House.
The website documents proposals solicited from artists, architects and designers; realized projects at the Schindler House; a brief history of the Schindler House; and a special conversation chapter that centers on a particularly important (and controversial) unrealized project.
Roman and Nicole's aim was to create a focused, readerly experience that did not feel like a traditional website or blog. The result is a site that emulates the rigor and gravitas of a print publication while still building a truly contemporary website (being responsive with semantic, accessible markup and all that jazz). The site provides space and tranquility for readers to get immersed in the writing.
The essays and proposal pages are structured simply, giving most of the attention to typography and large, full-bleed images. Roman and Nicole added a little typographic whimsy for the Conversation chapter, to differentiate the four participants in the conversation.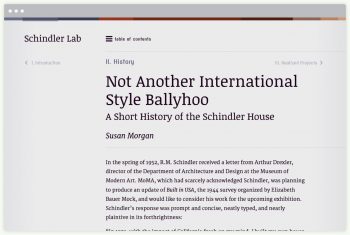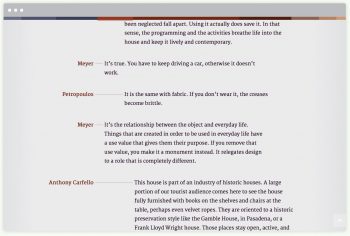 They explored alternative forms of navigation instead of a traditional menu. The table of contents clearly outlines the scope of the publication. It appears on every page as a progress indicator (in the form of color bars along the top) and can also be accessed as a detailed list in a full-page overlay. As a bonus they implemented a snazzy transition when the full table is opened: the color progress bars morph into the table of contents.
For the color palette, they drew inspiration from the materials used in constructing the Schindler House: muted blues (concrete), mahogany reds (copper and wood), and yellowing browns (canvas).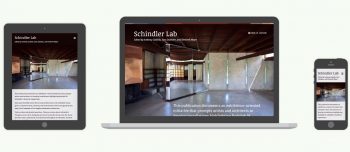 A diverse practice
Web and UX Design is a natural extension of Roman's print design practice and his relationship with the MAK Center. In 2013 Roman and Colleen Corcoran (MFA '08) designed the catalogue for the MAK Center's Everything Loose Will Land exhibition. And in 2011 Roman designed the catalogue for the exhibition Sympathetic Seeing: Esther McCoy and the Heart of American Modernist Architecture and Design.