Graphic Design faculty member Anther Kiley recently held a solo exhibition of paper miniatures at Sierra Nevada College on Lake Tahoe. The exhibition traced the evolution of Anther's miniatures from eccentric childhood pursuit to commercial product-in-development. On display were miniature cityscapes, plans, source images, and other artifacts, past and current.
Reflecting the relationship between Anther's childhood constructions and his current work, the exhibition was divided into two spaces. One space presented artifacts from 'Fishworld,' a miniature toy world continuously in construction and reconstruction by Anther between 1992 (when he was 9 years old) and around 2002. Fishworld began as a series of crudely hand-made toys fashioned out of poster board and populated by small ceramic fish figures. From there it grew with its creator, evolving into an increasingly elaborate expression of his interest in the built environment (architecture, infrastructure, urban geography) and intangible systems (trade, politics, visual culture). At its peak, Fishworld sprawled across several rooms, with cities, railways, a currency, and political system. Later, as Anther began to travel abroad, the project evolved into a nostalgic effort to capture, in painstaking detail, the essence of places he visited on his travels. Most of the artifacts included in the exhibition—buildings, parts, and plans —are from this final manifestation of the project.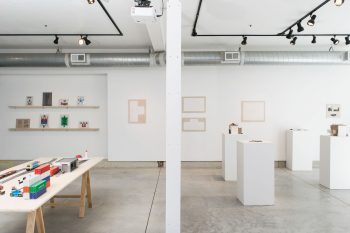 The other half of the gallery focused on 'Cardkits,' a line of paper toy kits for children and adults inspired by Fishworld. Cardkits are flat-packed kits of printed and die-cut parts that can be snapped, folded, and glued together to create elements of a miniature city. Once assembled, they are designed to invite play: trains couple together and run along track, wheels rotate and doors open, and set-ups are expandable and customizable. Combining aspects of traditional craft-based toys (model ships, Erector sets, Legos) with the 'world building' appeal of online games, Cardkits aim to re-inject craft and skill into contemporary toys. Cardkits are currently in development—the pieces shown in the exhibition are early prototypes —and are slated for launch in summer 2017.
The exhibition ran from October 13th–November 11th, kicking off with an opening artist's talk by Anther in which he attempted to understand his own lifelong obsession with miniatures through various interpretive lenses.