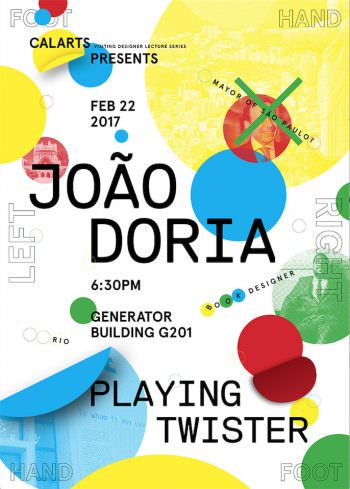 João Doria (BR, 1982) is a polymath wannabe. His work is centered around the act of multi-channeling, drawing knowledge from fields such as digital projection, filmmaking, architecture and installation art from a (graphic) designerly perspective. This investigation has taken the form of serial publishing (posters and publications) and situation-making (workshops, talks and performances) in collaboration with professionals and institutions inside and outside the realms of art and design.
In 2015 he co-initiated in Oslo with Kristina Ketola Bore a free-of-charge and 

week

-long project called The Ventriloquist Summerschool which is concerned with issues of discourse and voice in creative practices articulated through a set of parallel workshops, a public programme of talks and varying exhibition formats open to participants of any field, age and location. Two other projects stemmed from the same initiative over the course and preparation for three editions — The Ventriloquist Press and The Ventriloquist Radio.
He co-organized with Kristina Ketola Bore the panel "Responsive Programming" with Sheila Levrant de Bretteville on the occasion of the Alternative Art School Fair (Pioneer Works, NY, 2016) and recently participated in the "Publications in times of Social Unrest" panel moderated by the Temporary Art Review (Louise Dany, NO, 2017). The research of The Ventriloquist Press was featured through a lecture at the Magical Riso conference (Van Eyck, NL, 2016)
Doria holds an MFA in Graphic Design from Yale University (US) and was his graduating year's recipient of the Rebecca Taylor Porter award. He's currently a Senior Designer at Designit and also a guest lecturer in Norway at Oslo National Academy of the Arts at MA/BA level, at Westerdals ACT at BA level, at the Oslo Arkitekturhøgskolen at M.Arch level and in the USA at Virginia Commonwealth University as affiliate MFA Graphic Design faculty. His work has been awarded and exhibited in diverse countries.
CalArts Visiting Designer Lecture Series presents: João Doria Lecture Wednesday Feb. 22th. 6:30PM Generator Building G201