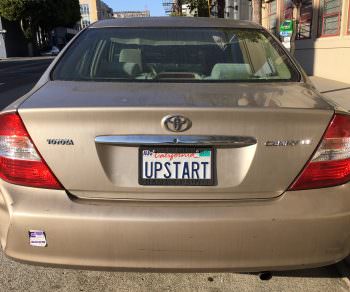 Although we spend most of the year in our Santa Clarita studios, a significant chunk of the CalArts design program experience comes from how we spend our summer vacations out in the world. Working with faculty and alumni, design students are encouraged to find internships for the summer to further their design education, and get some real world design experience!
This past summer, students travelled all around the world to pursue their design-related interests and explore the field from outside of the classroom. Shibo Chen (MFA 1) spent the summer in New York City, interning at V Magazine. "I was mainly doing small motion graphics for their Instagram posts, ad campaigns for their website, and  some page layout. I learned a lot about how to balance my own artistic drive with their commercial reality.  Also, sometimes I made something cool that they were excited about, and that's when I could fully express my unique style," notes Chen.  Onyou Kim (MFA 1) also spent the summer in New York, interning at Born Group. She loved learning about UX/UI, web design, E-commerce and Sketch. "I have been always interested in learning UX/UI. The experience helped me to figure out the particular path in Graphic Design that I want to pursue."
Jisoo Han (MFA 1) spent her summer in a graphic design studio in Singapore called Foreign Policy Design Group. Han recalls, "The designers at FP have a really excellent craftsmanship. They know how to translate hand-crafted details into digital form in a really smart way. Story-telling and experience-crafting is at the heart of what they do. In the process of communicating with the clients, I've learned how to come up with a narrative or a design strategy that clients would easily empathize."
Alexander Cheng (BFA 3) interned at Vision Box Media in Beijing, China. Vision Box is a publishing company that translates books from other languages into Chinese. Cheng notes that the most exciting thing he learned was how to set Chinese type, and the internship helped him develop a working method of making a lot of things. "Working outside of the country was an interesting experience. I got to ride the Beijing metro every day and have lunch with the people at the company. I think the most important thing I gained from being there was how to interact with people in a professional setting."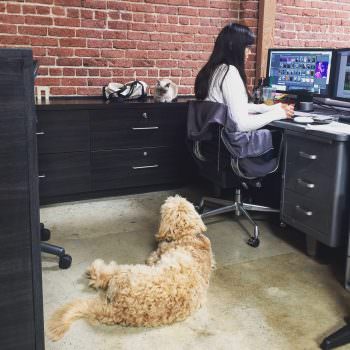 Christina Huang (MFA 1) worked at the San Francisco office of SYPartners, a design consultancy which also has an office in New York. They work with executive clients at large national and multinational companies to define and implement a cultural vision for their organization using design-thinking principles. "At SYPartners, I was exposed to a model for practice that was different from what I understand of traditional design studios and agencies. After working with the client to identify and articulate their needs, SYPartners would propose a self-defined design brief to best address those needs. Briefs ranged anywhere from traditional print design to experience design based in emerging media. As someone with broad interests within and beyond design, this model of practice is very appealing to me not only because it would allow me to explore my interests, but also because I believe it would give me the freedom to define my own vision for the role of the designer," Huang explained.
Back in Los Angeles, Kathy Bates (MFA 2) interned at P+A (Percival and Associates) in Hollywood. They are a studio that specializes in Key Art, posters for films and television. Among revelations about the design process and working with clients, Kathy's most valuable takeaway was that office pets make every day better. Dameon Waggoner (MFA 2) interned at LAD Design, in Downtown Los Angeles. Waggoner tells, "I was fortunate enough to collaborate with [principle] Lawrence Azerrad on several projects and I sat in on several meetings with clients. I also learned quite a bit about running a successful independent graphic design studio and just how much work, planning and meetings go into it!"
Guanyan Wu (MFA 2) also interned in Downtown Los Angeles at Place&Page, a community-centered graphic design studio that works with local organizations and public agencies. The studio's founder and creative director Colleen Corcoran (MFA 2008) graduated from the CalArts Graphic Design MFA program in 2008. Since then, she has been working on projects that examine the use of design as a tool for education and positive change within the urban environment. Place&Page works with Tiffanie Tran (BFA 2012), and shares an office with Yay Brigade, the studio of CalArts faculty and alum Roman Jaster (BFA 2007) and his work partner Nicole Jaffe. Wu notes, "I've always been interested in designing socially engaged work. I assisted Colleen with building the studio's website, as well as an infographic based on a research about transportation equity in South Central L.A. by UCLA Institute of Transportation Studies (ITS). Also I was excited to work more independently on various projects for CicLAvia, Vision Zero, and Coalition for Humane Immigrant Rights of Los Angeles (CHIRLA)."
Ella Gold (MFA 1) interned in Los Angeles as well, for Brian Roettinger (BFA 2004). She recalls what a busy summer it was, with the release of the Kesha and Jay-Z albums, both of which were designed by Roettinger, in addition to several artist monographs, exhibition catalogs, music videos, and more. Gold helped out with both the music and art-related projects, and was really surprised to learn that she enjoyed working on album art just as much as laying out the forthcoming Hat & Beard Press monograph "Double Vision: The Photography of George Rodriguez."
And now? Students are back in the studio, making work of their own with some more experience and insight to bring to the coming year.