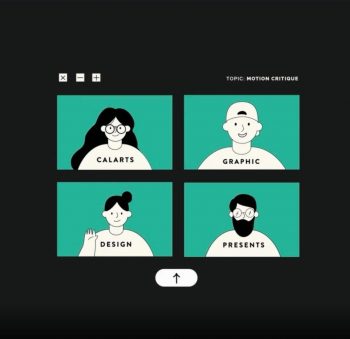 The annual CalArts Graphic Design Motion Show (MOSHO) is a video exhibiting our student's motion, video, and animation projects. Under normal circumstances, we all watch it together in the Bijou Theater, on campus, at the end of the school year. We party and celebrate our hard work, in conjunction with End of Year Show and graduation in the same week.
This year however, celebrations were bound to stay-at-home rulings, and we toasted over Zoom video calls. Instead of a public screening in the Bijou, we all joined a live stream to watch MOSHO 2020 together. And what a blast it was! The viewer count even exceeded the maximum capacity of our physical Bijou Theater, making it perhaps the most successful MOSHO yet. Students, alumni, staff of today and the past, all came together for the event.
The MOSHO team of this year, consisting of Graphic Design program students across several year levels, put together some great animations and a beautiful framework for the submissions to be presented in. Students who submitted to MOSHO also provided interstitials – 10 second videos of dancing, joking around and overall silliness in living rooms while their names were announced.
This coming Thursday (May 22, 2020) at 6pm PST it will be viewable again at thurs.night.calarts.edu.
MOSHO 2020 will be uploaded for public viewing at anytime very soon, stay tuned here for a link!