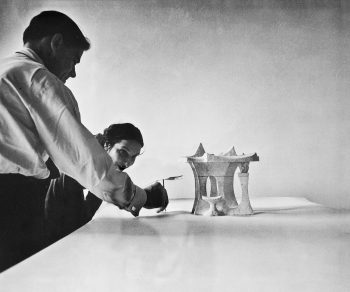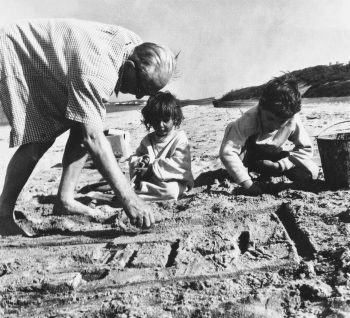 Anther Kiley is the newest full-time faculty member in the Graphic Design program at CalArts. He joins us from Rhode Island, where he has been working as a graphic designer and adjunct faculty at RISD. When Anther visited CalArts for the first time last winter, he spoke about his work and interests in the context of some family and childhood history. We asked him to adapt that part of his talk for this post, as an insight to what motivates him as a designer:
My mother's parents met in art school in Italy in the 1930s. My grandfather was a mason-turned-sculptor from the island of Sardinia. My grandmother was a German Jew. Soon after they met, they fled Europe and came to New York.
They bought a small house near East Hampton, Long Island, which at that time was cheap potato farmland. My grandfather put his masonry skills to use; he built onto the house, put up muraled walls in the garden, an arbor, a solarium. His aesthetic mixed mid-century Modernism with whitewashed Mediterranean primitivism. He didn't design the place so much as he built it, haphazardly, often shoddily, out of a need to order and make beautiful his new life.
In the 1950s, other artists moved to the Hamptons. Bill de Kooning, Saul Steinberg, and Jackson Pollock became my grandparents' neighbors. Le Corbusier stayed with them for a summer and painted a huge mural on the walls of the living room. This was the environment in which my mom grew up; an aesthetic utopia, where a particular formal sensibility was elevated to the level of moral principle.
As some sort of internalization of my family's relationship to aesthetics, I spent a good amount of my childhood obsessively making things out of paper. Eventually, I had built an entire miniature world. Like all miniatures, my constructions were an aestheticized idealization of my world — a utopia not unlike my grandparents' house.
My family history and eccentric childhood exploits are at the heart of who I am as a designer. I am fascinated by the aesthetic, both as an intellectual proposition with a complicated cultural history, and as a subject of personal visual inquiry. In graduate school at RISD, I investigated the ways in which 'form' operates, and is imagined, in the field of graphic design. In my personal work since then, I have explored the intersection of digital aesthetics and historic conventions of representation (collage, still life, landscape). My interest in formal exploration, together with a love of writing and research, also inform my work in type, web, and print design as one half of The Service Bureau. These interests and values are also what drew me to the GD program at CalArts, where formal experimentation and intellectual rigor are both valued. I am truly excited to be joining the community here!