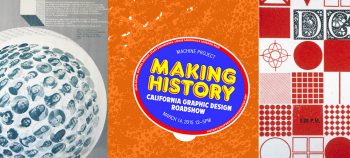 Dig in your basements, attics, and storage boxes! Bring your friends, friends of friends, students, and important designers (especially ones who have been around awhile)!
Bring spectacular examples of California graphic design from before the year 2000 in the form posters, books, flyers, stickers, LSD tabs, magazine, zines, pamphlets, cards, brochures, logos, motion graphics, animation, lettering, fonts, signage, record covers, tickets, ephemera, religious documents, cult graphics, games, buttons, badges, illustrations, titles, signage, lost dog flyers, filming flyers, resumes, photos or documentation of spaces, store window displays, store design, exhibitions, apparel with graphics, as well articles about Cal Design, correspondence, anecdotes, etc. 3–5 examples max, please. Originals, slides or photos are fine.
With design history experts, graphic design students from around Los Angeles, and other graphic design history devotees on hand we'll help identify and document California graphic design history! It will all get added to a website/wiki on California Graphic design to help build this amazing history.
Hosts: Louise Sandhaus, Lorraine Wild, Staci Steinberger, Sean Adams, Michael Dooley, Kat Catmur, Colomba Cruz Elton, Thomas Kracauer, Hayden Smith, Noha Khashogghi, Eline Mul and others.
Saturday, March 14th // 12-5pm
at Machine Project
1200-D North Alvarado St, Los Angeles, California 90026
FREE
Visit Machine Project for further information on this event.