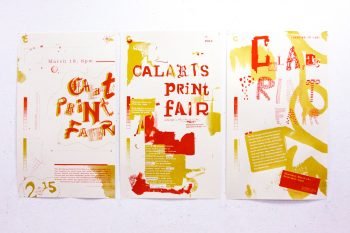 The 4th Annual CalArts Print Fair happens Thursday, March 19, 6-11pm in the Main Gallery. The CalArts Print Fair is a student-organized event that features the print work and crafts of CalArts students, alumni, faculty, and friends. This year's fair will be hosting +60 exhibitors. Attendees have the opportunity to browse and purchase handmade goods such as posters, zines, totes, t-shirts, and more. Workshops hosted at this event give students and visitors the opportunity to make their own works with practicing graphic designers in the Los Angeles area.
WORKSHOPS
Calvin Rye (MFA 2014), Cathy Lee (MFA 2013), and Sarah Shoemake (MFA 2014) will be hosting a workshop in which participants will engage with and create crude mark-making machines, drawing (good pun) inspiration from the kinetic Metamechanics of Jean Tinguely and early art-school image-making exercises, such as drawing contours while blindfolded. We will cobble together devices of controlled serendipity, leaning toward the expressive, pathetic, and absurd.
Confetti Confidential, a collective collage practice, composed of five CalArts graphic design alumni (Laura Bernstein, Lucy Cook, Ania Diakoff, Kate Johnston, and Julie Moon), that explore themes of friendship and intimacy, as well as a dedication to personal expression, material exploration, and artistic discovery. Participants will enjoy an evening of collage!
For further information visit CalArts Print Fair.
CalArts alumni interested in selling printed matter can contact Mina Shoaib at minashoaib@alum.calarts.edu to reserve a table.