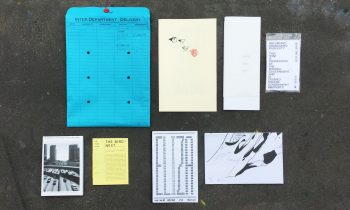 Despite all the client meetings and industry events, design is a pretty solitary discipline. Work from home, and you'll face the inevitable choice of spending all day alone in your apartment talking to your pets, or joining the countless other freelancers at your local coffee shop vying for those three coveted tables where your laptop charger actually reaches the wall outlet. That's why one of the best parts about working in a shared studio environment is the close collaborations and friendships that develop after spending the better part of your days (and nights) sitting across a desk from your peers.
In 2011, CalArts faculty member Gail Swanlund and BFA alum Brian Roettinger (BFA 04) shared Willem Henri Lucas' studio space during their Artist in Residence period at UCLA's Design Media Arts department. Along with Henri, and their fellow studio mates Johanna Hedva (Art MFA 2013, Aesthetics and Politics MA 2014), Jessica Tan, and Jon Gacnik, Gail and Brian decided to initiate a seasonal publication design project to keep the six friends connected once their time at Henri's studio came to an end. Brian recalls, "We promised 5 years ago to make nine readers with the tenth being a publication of some format that collects them all. Originally it was an excuse for us to see each other. It's easy in Los Angeles to drift away."
On the epic timeline of the project, Gail explains, "With the paraphrased advice of Ed Fella in mind—that you can't really know where a series is going to take you until you've made ten iterations of it—we decided to meet up and release ten readers over the next five years, and we'd release a Winter and Spring Reader each year. We thought about having an overarching topic, but decided against it, since each reader is really an exploration or investigation into something that interests each individual at that moment."
The launch of the 9th reader was held last Saturday at Jon Gacnik's new storefront studio, which he shares with his design partners Takumi Akin, and Wesley Chou in Chinatown. In preparation for the event, Gail says, "It's essential to the project to convene for a meal prior to the launch party, because at its heart, the Reader is about friendship; it lassoes or binds us together."
The 100 copies of each book sold out quickly at the reception party. On making the publication only available on the night of the launch, Gail explains, "It's part of the project to make that transaction in person, to send our books out into the world, but in a very personal and quantifiable way." The 10th, and final Reader will be released later this Spring.