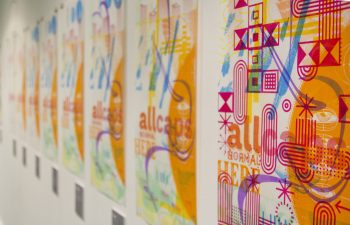 When I heard that my classmates Aamina Ganser (MFA1) and Henrique Eira (MFA2) were working on a self-initiated poster project that would consist of the combined individual designs of over twenty CalArts participants, I was skeptical. How would a group project that required multiple, 8-layer screenprints, and the coordination of BFAs, MFAs, and faculty not turn messy or simply devolve into an exercise of herding cats?
My doubts were quickly dispelled through my own participation in the project. Each contributing designer was interviewed and asked to design one layer of a poster based on the theme of Transition. Leaving the design parameters open-ended allowed for experimentation and room for each individual's voice to remain distinct. When printed together, these potentially discordant color palettes and styles blended with one another to create a thoughtful, polyphonic meditation on personal history, design, and collaboration.
I sat down with Aamina and Henrique to learn more about the process of creating Volume One:
What prompted this project?
Aamina: The first conversation Henrique and I had a year ago was about a large-scaled collaboration across the design department that included undergrad and graduate students. We wanted to create a sense of community. As we started developing Volume One, we talked about building a methodology around personal experiences– one that uses the designer's voice in the brief. So we wrote a series of questions intended to elicit stories. Questions like, 'What is your biggest regret?'
Henrique: We wanted to create a self-initiated project that could allow us to experiment freely with form and process. Part of our interest was what graphic design could look like made in response to something personal. We decided to use conversation as a framework, and we felt like that dialogue would translate visually as each layer was added. The result is a series of three 8-layer screenprints.
Aamina: And the design program has a rich history of self-initiated projects. We were really excited about projects like FISK, Spectra, the original Pub, and Rebellion Acceptance Overdrive: CalArts Type Design exhibition.
What was it like working with such a large group of contributors, including faculty?
Henrique: We wanted the project to connect the legacy of the graphic design program and its current community. The idea was to include designers at different points in their lives and careers. The process we devised was about not knowing what the final visual outcome would be. Inviting 24 designers was a way of releasing control. Each week we met with a designer from the three prints to have a conversation and pass off the design file. We asked questions about their personal experiences and told designers to create a visual response to that conversation.
Aamina: Ed Fella, Gail Swanlund and Mr. Keedy contributed designs on the eighth and final layer of the prints. We talked to all three of them about their trajectories as designers and educators. Something that Ed said during our conversation really summed up not only the project, but where all of us, as design students are. He said, "You can't strategize the future. You can imagine it, or get ready for it but you just have to go into it, day by day."
The most satisfying part of the project was watching the prints evolve each week. Even though the designs were abstracted, you could sense that designer's personality. It wasn't in our original plan to put together an exhibition, but we felt a responsibility to show everyone what we were seeing week-to-week as the project progressed. The exhibition came about really organically, and we decided to juxtapose every layer with a quote from that designer's conversation with us.
What was the printing process like given the number of layers that each poster required? ​
Henrique: All 24 layers had to be printed around 70 times. On top of that, all of the colors were custom. We had many spreadsheets to keep track of everything. We got help from our peers, which was great. Having Kennis, Jae, Yunji, Lu, Sohee, Mina and Iris there to help us in production made the process more enjoyable and manageable. Also, Robert Dansby advised us on every aspect of printing. We couldn't have pulled off the project without him. We still managed to ruin two screens, though.
What is the next step for Volume One? Will there be a Volume 2? Is there a specific goal or outcome for the project beyond the exhibition?
Aamina: The name, Volume One, reflects the collective of designs and voices. We'll be designing the website in the coming weeks with documentation of the prints and exhibition. The project will live as an archive online. As for specific outcomes, we hope Volume One will be one of the many interesting projects coming out of the design department. And I'm sure it will inform the work Henrique and I go on to make.