Bijan Berahimi is a busy guy. Since graduating CalArts in 2013, he has relocated to Portland, where he designed for Nike, started his own studio practice, and launched the gallery space FISK, an initiative that was first developed while he was still in undergrad. And things aren't slowing down. This past year, Bijan headed to the Menlo Park, where he had the opportunity to work as designer-in-residence at Facebook's Analog Research Lab. I spoke with him about the experience, and how his CalArts education helped prepare him for the job.
Thanks for talking with us today! First off, what is the Analog Research Lab, and how long has it been active?
Thanks for having me Margaret. The Analog Research Lab was founded spontaneously as an extracurricular project within Facebook in 2010 by two employees, Ben Barry and Everett Katigbak. It seems like the most interesting (and successful) projects are started like this, self-initiated spontaneous ones created out of personal ambition until someone takes notice and decides to support it. Not a project that someone (a client or company) asked for.
Since then it's grown into a foundational aspect of the culture at Facebook. It's responsible for internal communication, to create dialogue and conversations, to educate, inspire, and motivate, it serves many responsibilities within the company. You can read more about it here and here.
When someone says Facebook, you don't immediately think of screenprinting or any kind of tangible maker culture. What has the reception been like for employees who use the Lab?
Employees are very very very (very very very) ecstatic about the Lab, they absolutely LOVE it and LOVE using it. I've heard many employees describe the Lab as the most magical space on campus. It's their favorite space to show off to their family or friends visiting. It's what makes FB stand out amongst other companies and what makes it so cool in my eyes. It's also a huge testament to the amazing people working in the Lab day to day (shout out to Drew, Dana, and Scott) who host weekly workshops open to the entire company and so much more. And of course to Zuck man himself!
FB being so supportive and investing in tangible maker culture is a healthy sign for the future of the physical, right? Yes, it has become more fetishized but it serves as a stimulator and educator within the FB community. The company clearly sees value in investing in it. Without a doubt it fills a nostalgic desire within the employees there, a novelty for all of the engineers and coders at FB, which, I'm totally cool with. Because, who doesn't love a free poster?
What was a day in the life like for your while working at the Lab?
Generally most days would consist of image-making, sending emails, using the Risograph, ideating, screenprinting, or hosting a weekly collage club (shout out to Confetti Confidential) on campus.
Working in the Lab is highly self-initiated, which allows for a lot of freedom. Freedom is ideal while also being extremely daunting. It was like CalArts without the teacher and no syllabus, which sounds like heaven and hell at the same time, right? I was being paid to be creative 5 days a week to produce things that have value and cultural merit at FB which created a looming pressure. Assimilating is always a challenge and everything there was extremely foreign to me. Being able to gauge an idea that felt relevant at FB, while still challenging my own work and the work the Lab was producing was exhausting at times. If I'm being real, I struggled in a lot of ways. But I also grew more in that environment than I could have anywhere else. It challenged me in ways that I'm still figuring out and reflecting on.
Do you have a favorite project that you completed during your residency?
I'd say my favorite project was one of my first, a screen print of a Mac JPEG Thumbnail Icon. It really tested the waters with the community at FB. It gave me confidence that people were into my ideas; however frivolous they might seem. It felt like a lot of things I was thinking about being expressed into this weird object that felt foreign to my work at the time. Seeing people react so positively to something I thought of so naturally was really nice and welcoming.
My second favorite project was a series of risograph prints I made throughout my residency. They are a reflection of experiences and feelings, sometimes mundane but mainly existential. This series was the first time since CalArts that I felt I was able to explore and focus on my personal practice. This series will live in the form of a book that I'm currently working on.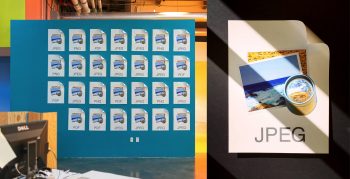 How did your time at CalArts prepare you for this job?
It prepared me in every way imaginable. CalArts changed my life and I owe everything that proceeds to that place and the people I met there. I'm aware that sounds corny.
Specifically it taught me all the basic technical skills to be able to work efficiently and quickly in a print lab. In that sense I had no trouble assimilating (shoutout to Dansby).
Now that your residency has come to a close, what's next?
The residency at FB and my lease on the FISK Gallery space ended the same day so I feel like I'm entering a new chapter of my life. But yeah, I don't really know what that chapter entails, I'm still figuring that out, which I'm realizing is how I routinely operate. For now I'm back in Portland full time, focusing on new client work, investing in more studio-initiated projects, and working on expanding FISK. I visited Los Hopper in Costa Rica last week which was really inspiring and has led to some new things brewing with FISK too.
Generally, I have loose far-fetched ideas of what I want to accomplish as my north star, those ideas are constantly evolving. Both the residency and gallery seemed like aspirationally intangible ideas prior to being realized. Some days I want to make a piece of furniture, some days I want to work on developing a script for a sitcom, some days I want to get an MFA. Naturally, there are lots of things I want to explore. Who knows what could be next?