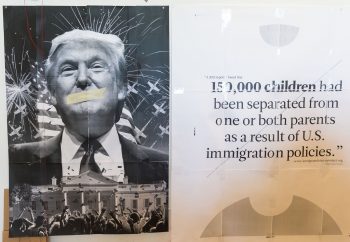 US politics were much of the focus of the recent workshop with designer and critic Francisco Laranjo.
During a weekend in early November we embarked on an exploration that involved many potentially contentious topics regarding power, perspective, and the liberal-leaning atmosphere that seems to permeate both art school environments and the broader art world. This focus, combined with Laranjo's emphasis on designers' criticality, drove the weekend's political and social analysis.
The first project involved examining what each of us felt were symbols of power. We pulled images from the web and constructed a chart that ranked the relative strengths of symbols of power along a soft (less tangible) to hard (more tangible) scale. After picking the strongest of these images, we constructed pro- and anti-Trump posters in an interesting exploration of how both agendas would be represented through abstract images. This exercise became the primer for the shifting political perspectives we were to explore over the weekend as socially conscious designers.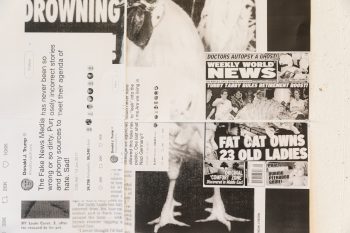 We created posters through several design limitations; the use of abstract images was just one example. A series of "feminist pro-Trump" posters, or a "cute anti-Trump" poster may be fun experiments, but they were also deeply intertwined with ideas of propaganda, bias, and the consideration of one's target audience. "Fake news" was also a concept we directly explored, with the challenge of appealing to a group that may be actively hostile towards the agenda one is trying to convey. Throughout the workshop, Laranjo put an emphasis on transparency and making the role and influence of the designer known, an especially relevant responsibility given the current rampant claims of bias in media and campaign presentation.
In the end, we created a visual essay booklet exploring future dystopian and utopian possibilities. The booklet was a way to examine the current political climate and attempt to envision and design a better world in which the role of the designer can be as a potential enactor of change through political and social consciousness.
Francisco Laranjo is a graphic designer, writer, and educator​​ based in Porto (Portugal) and London (UK). Laranjo's writings have been published in Design Observer, Eye, Creative Review, Grafik, and Público, among others. He is co-director of The Shared Institute, a research centre for design and radical pedagogy, and runs a platform for design criticism and writings at modesofcriticism.org.