In January of 2017, the Graphic Design program embarked on a daunting task: to catalog, photograph, and archive the thousands of posters that have been designed and printed by CalArts Design students since the early eighties.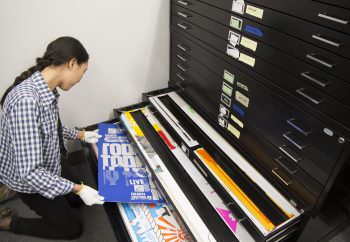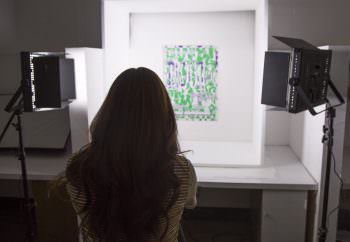 Faculty member Michael Worthington, along with MFA students Ella Gold and Christina Huang, accessed the Graphic Design Poster Archive—managed by Shelley Stepp—carefully removing posters from the archive's flat files and photographing them in preparation for a forthcoming website and subsequent publication documenting CalArts' prolific history of poster design and printmaking.
CalArts has a long history of designing and printing posters for visiting artists and designer lectures on and off campus, as well as performances in the Schools of Music, Theatre and Dance. The poster archive contains more than thirty years of posters, many of which do not have a designer attributed to them. Roman Jaster, Michael Worthington and MFA students Tracy Tran and Guanyan Wu are currently in the process of designing and developing the website to showcase the poster archive. The intention behind the website is manifold: firstly, making available to the public an online archive of these spectacular posters for the first time ever, and secondly, to crowdsource information from former students and faculty to fill-in missing data in the archive.
The website is slated to launch in January 2018, and to be built out through the end of the Summer 2018. When complete, there will also be the opportunity for alumni to donate posters to the online and physical archive. The website will be followed by an exhibition and a publication featuring selected posters from the last 40 years, with short essays by GD alumni and faculty. The tentative publication date is December 2018.
Update (January 2018): The beta website is up! Please peruse and submit your additions/corrections at posters.calarts.edu.