Alex Cerutti (BFA3) and Bryan Gelderbloom (BFA3) each explain how making shirts started as an expressive outlet, before growing into something more.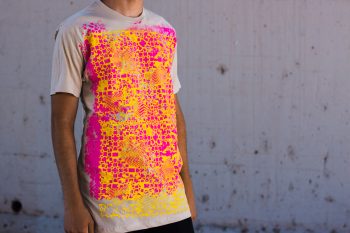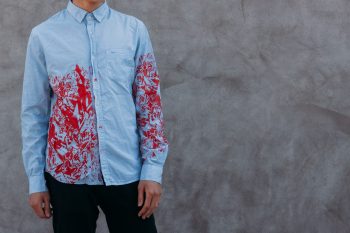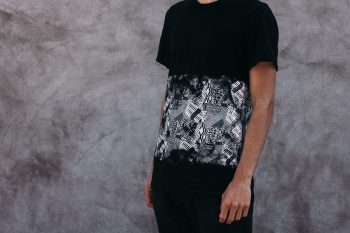 Alex Cerutti: I've been making my own shirts since I was about 12 years old. Back then, I started drawing on shirts, painting them, using transfers, and what feels like everything in between. From this, my passion quickly grew and I was ready to take it to the next level. I asked myself how the pros did it, and that's when I found screen printing. Immediately I knew what I wanted to be doing for the rest of my life, which, looking back, is kind of a surreal moment to experience at such a young age, but I remember really not thinking too much about it—all I remember was that I had to just keep moving forward.
Eventually, sometime in high school, my friends began asking me how they could buy the shirts I was wearing. This is where Change The Game was born—something I never described as a "clothing company," but rather a medium to present, share, and exchange the work I enjoy making the most. And at that point it all felt very natural; I knew I wanted Change The Game to be about being bold, unique, different, and expressive. I felt like I'd always been searching for that thing that I'd never seen before, or that maybe had never existed, and this was an environment—a space, if you will—that I created to put that all together and to pursue it in a more cohesive manner.
Since then, my focus on it has come and gone due to not having enough time to execute things and honestly wanting to explore other avenues. But this summer I decided to come back to it, reevaluate everything, and put my utmost time and effort into driving things forward. I remember at the beginning of the summer I did a lot of writing, really trying to concept everything out, but I realized at one point I just had to start making. I redid the logo, the branding, the imagery, and even how I compose the printing of the actual garments. Everything was new in the sense of attempting to work in new ways, so I think a lot of mistakes were made and I definitely made things I didn't necessarily love—some shirts even came out completely unusable—but through that I know I've taken some great steps forward.
As for what is next to come, I've already got plans and ideas in mind. Unlike these past two years in school where the workload of my classes and assignments completely took over my ability to think and work on Change The Game, this year I've given myself more time and will work on it when I can throughout the year.
One of the biggest questions I get asked too is if I sell the clothing—and while that has never been what drives me to create, the answer is yes. I sell a few things in stock and, when I can, I enjoy making custom orders for people. I mostly update what I'm doing on Instagram.
Bryan Gelderbloom: When I was 21, I was in a graphic design course down the street at College of the Canyons and the final project was just to design whatever we wanted. This project became the beginning of my zine that I'm still making. I used this as a chance to showcase the pictures I was taking at shows in LA and Orange County on disposable cameras. When the initial run of zines sold out fairly quickly, I realized I could turn Freeloaders into something a little bigger. So I decided I would teach myself how to screen print in my backyard and do everything myself. I built a press out of wood and door hinges, shot my screen in my garage with a desk lamp, and printed a run of 75 shirts.
At the time I was working at a Ross discount store so, with my employee discount, I was able to get shirts for dirt cheap. My first run, I was selling shirts for five dollars each and was just giving them to my friends in bands that were playing a bunch of shows at the time. It really started to take off when my friend Cole [Becker] from the band SWMRS took a couple of my shirts on tour and wore them across the US. People started to notice them, and I started getting orders from all over the country. I know sending stuff to ten-plus states doesn't seem like a big deal, but the fact that people were taking interest in a small project I didn't expect much from was huge.
Since then, I've moved away from having the shirts be part of the zine project after doing four or so under the Freeloaders name. Inspiration comes from tons of different places, such as last year when I designed a shirt based on an unreleased space rock opera from 1996, but I also made a shirt with Bigfoot on it because I thought it was funny. For right now, I've been designing shirts that I'd wear and making them available for other people as well, but not for any major profit. This project has always just been about making things I think are cool and having a way to fund the next venture, whatever it may be. Anything I make off the shirts always just goes back into the project and towards printing the next shirts, getting zines printed, or buying supplies to make buttons and whatever other small things I can think of to throw in with orders. For right now, my focus is on taking the most out of the design program here, so that is why the shirts don't come out frequently and why most of my designs are based off phrases you'll hear me saying too many times.
Right now all of this is fun for me; it's nice to step away from everything and get into my own head to make things. I've learned a lot about myself and my state of mind just through looking at how my shirt designs have changed over the last three years. It's surprising that people are still showing interest and that I'm getting real-world design jobs off something that I created just to get ideas out. I think in the next year I will take time to restructure how Freeloaders is run, driving it to be more design-oriented than it has been in the past and reintegrating shirts into that side of what I do. I ultimately hope to make something I can be proud of, but for now that means taking it one step at a time. At the moment I'm swamped with school work and other jobs, so I probably won't have any new shirt designs out until the new year, but only time will tell.