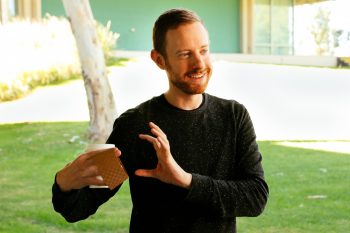 Graphic designer and filmmaker Andrew Sloat discusses a few of his design favorites and imparts some words of wisdom.
Favorite color: I like them all.
Favorite typeface: News Gothic because that is the typeface that everything at BAM [Brooklyn Academy of Music] is done in, so I look at it all day long and my love gets deeper and deeper.
Favorite album: My favorite album is Sleater-Kinney's The Woods.
Favorite album cover design: I'll say the same thing. The Woods has a great cover.
Book you've read recently: A book called America's Constitution: A Biography. It's a book about the ways that the Framers of the Constitution looked to other examples to figure out the best possible route forward for America. It's an amazing read because the book handles it almost like a design problem. They have a series of references that they're looking at, and they're trying to figure out which conditions are different, which conditions are the same, which can be reimagined. It makes a case for the idea that the enduring success of the Constitution is just wholly unlikely, and the fact that it has survived this long is a miracle.
Favorite book cover designer: I mean Irma Boom is obviously my go-to saint, but I also really like Mevis & Van Deursen's book covers.
Favorite movie: My favorite movie is called Losing Ground, and it's by this filmmaker named Kathleen Collins. Some think it's the first American feature film made by a black woman, and after it was made, it ran on TV once, and then it was forgotten about. The filmmaker died and when her daughter was sent the film, she started showing it to people and they realized that it was this miracle of American independent filmmaking that had been completely forgotten. It's a layered story, that has a meta-story told within it, of this professor at a college in New York City. She's extremely cerebral—she's a Kant scholar—and her husband is an artist. The kickoff of the movie is that he sells his first painting to MoMA, and from there it's about her as a cerebral person coming in contact with his ecstatic reality. The flow is about the disintegration, basically, of her trying to understand him and therefore forcing themselves apart. It's fucking brilliant, and it's beautifully designed and cryptically acted. At the end of it—this is the most interesting part—she agrees to be in a student film, and the student film is a reconstruction, with no sound, of her whole story. What ends up happening is that what you're watching is her talking to the stand-in for her husband in the film, but she's speaking the subtext of the story you just watched. The student director says, "Just talk about whatever, we can't hear it," so she starts describing her feelings from the whole beginning part of the film, and you rewatch the entire story dramatized to match her reality. It makes me so angry that it wasn't better known. [Collins] ended up studying in Paris and had actually learned some of her early filmmaking skills from the biggies of the New Wave. So she was a black American woman who was learning from the New Wave filmmakers and yet was completely forgotten about. I'm still so frustrated by how that could happen.
Favorite movie poster designer: I'm going to say Teddy Blanks. He's followed a somewhat similar trajectory to me actually—someone who's a graphic designer who then moved into directing. He's more brilliant than I at both of those things, but his posters in particular are beautiful.
Favorite play or performance: In terms of performances, I see so much dance that that's kind of my first love. I'm going to give a dance answer, which is that I just saw Anne Teresa De Keersmaeker, a Belgian choreographer, do this piece to the Brandenburg Concertos that was at the Park Avenue Armory in New York. It was massive and cerebral and spectacular. I also cried in pleasure harder than I've ever cried in pleasure at a performance before, like heaving sobs. I don't remember the last time I was that affected by something.
Something people may not know about you: I was the head of a political organization in Brooklyn. We work on campaigns for local, state, and city offices, and we've been raising a ruckus for ten years now. I think what people don't know about me is how much of my free time I spend as a JV local-political operative.
Words of wisdom: I always say to students that school is the time to take advantage of the safety to make a lot of mistakes. Take big swings at crazy ideas now because you'll have a lot less time after school to take chances on things that might not pan out. If you do them now, they could, in fact, inadvertently turn into your whole career.
Andrew Sloat is a graphic designer and filmmaker. His work explores the relationship between the two-dimensionality of print design and the three-dimensionality of theater. Andrew is currently the creative director at BAM, the Brooklyn Academy of Music. He also teaches in the graduate graphic design program at the Rhode Island School of Design.