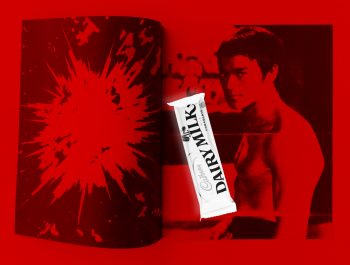 Designer and educator Harsh Patel discusses a few of his favorites.
Favorite color: Good question! I don't know.
Favorite typeface: Once I make a typeface of both my parents handwriting, I think that'll be it.
Favorite album or album you've been listening to recently: Suede's Dog Man Star.
Favorite album cover design: Ruff Sqwad's Guns N Roses Volume 1.
Favorite book you've read recently: I read more interviews than anything else.
Favorite book designer: Somewhat oddly, I don't think about this so much anymore. Not that I don't appreciate book design, though.
Favorite movie you've seen recently: The last movies I saw that affected me were all by Maurice Pialat.
Favorite movie poster design: I don't think I've ever seen a movie poster whose design I liked that much.
Something people may not know about you: I would rather not talk about graphic design when I see people. I'd rather talk about anything else at all.
Any words of wisdom? Be careful who you take advice from, ha ha ha.
Anything else you'd like to add? Form, ideology, talent, credibility.
Harsh Patel is a graphic designer, publisher, and teacher who lives and works in Los Angeles.