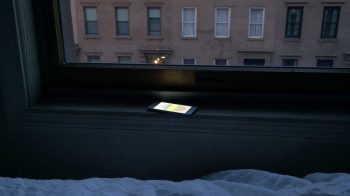 Designer, artist, writer, and educator Laurel Schwulst talks about her Flight Simulator app and favorite fragrances.

Favorite color: Green.
Favorite typeface: I like Times New Roman…
Favorite album you've been listening to: I've been enjoying Carl Stone's Electronic Music from the Eighties and Nineties. I learned all his songs are named after restaurants in Los Angeles. I've also listened to this mix by Wolfgang Voigt so many times now. He calls it his "pop diary" and it has a lot of Prefab Sprout. It's very dreamy.
Favorite book you've read recently: Lately I've been reading books by this psychotherapist Carl Rogers. I read his book called On Becoming a Person. As I grow older, I aim for a more sustainable and holistic practice as a designer or teacher or even just as a person. As a teacher specifically, there's a lot of joy in witnessing someone becoming themselves. This book talks about these types of relationships—it's not just psychotherapists who can do this. This could be a parent-child or a teacher-student or even friend-friend relationship. Learning how to most meaningfully relate to others is a lifelong and rewarding pursuit.
Favorite movie you've seen recently: I loved Wings of Desire, set in Berlin in 1987. It has the most amazing scene of angels in a library. Thanks to my friend Meg Miller who recommended it.
What makes a good perfume: When you wear perfume, I believe you're making yourself more "sticky" for memory, because then someone will associate the smell of your perfume combined with your body in that particular moment in time. When they smell that special smell again, they'll easily recall the situation with you. I think a perfume needs to be distinctive and unique, but at the same time, you don't want your perfume to be so overpowering or offensive that you make your companion's experience negative. So if you can wear a perfume that's a good balance between unique and boring, I think that's ideal.
On flights: I love to fly. I'm glad now that Flight Simulator exists, I can fly more often and without so many carbon emissions. I'd recommend trying a simulated flight with a real life human companion to activate a shared imagination. (And of course simulated flights are wonderful alone as well for that peaceful solitude.)
Words of wisdom: Many details only become known to us as we progress. In terms of working with technology, this feels amplified. When you work with a new tool or language, it's only by working with it over and over again can you become closer to understanding its true potential with you as its special activator.
Something people may not know about you: While I do work with technology, I actually learn it quite slowly. I learn something new every year, but it's very gradual and small.
Laurel Schwulst is an artist, designer, and writer. She runs Beautiful Company, a design practice and also teaches at Yale and Rutgers. Previously, Laurel was the creative director of The Creative Independent, Kickstarter's online publication. Before that, she worked at the design studio Linked by Air. Her book Perfume Area, co-authored with Sydney Shen, (Ambient Works, 2015) contemplates 36 designer fragrances. Most recently, Laurel made an ambient travel app Flight Simulator (Soft, 2019).