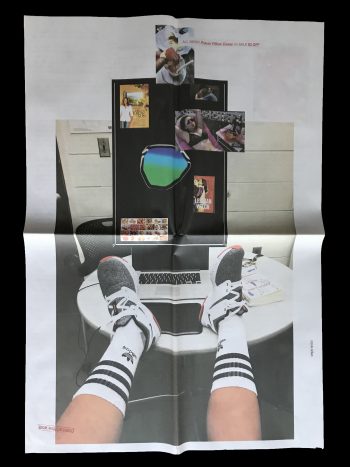 Designer and educator Nicole Killian talks Italian bands, her illegal ferret, and finding one's voice.
Favorite color: The blue or purple color of a bruise.
Favorite typeface: My favorite typeface is Walter which is free on DaFont. It's Disney!
Favorite album you've been listening to recently: Robyn's Honey, Boy Harsher's Careful, Yves Tumor's Safe in the Hands of Love, also there is some really amazing music coming out of Napoli (Italy) right now from bands like Modula and Nu Guinea—really, really good stuff.
Favorite album cover design: Exile in Guyville by Liz Phair is still a favorite.
Favorite book you've read recently: I finished Roman Poems by Pasolini for the thousandth time and then also Mercury by Ariana Reines. I've just been reading a lot of poetry the past few years and that's stuff we've been using in class too.
Favorite movie you've seen recently: Shoplifters, The Favourite, Cold War, Roma; controversially I saw the new Suspiria and was into it!
Favorite movie title design: I still really love the way the film Run Lola Run looks. It's really haphazard, so I would talk about that. I think that Chung Kuo, Cina, which is an Antonioni film—I really love the credits for it. They're really simple—they're just blue and yellow—but nice.
Something people may not know about you: I have a ferret. My ferret's name is Marten and they're illegal in California.
Words of wisdom: I think the sooner you figure out what you care about, the things that really inform your work…you will find your voice. Or what that voice sounds and feels like to be exercised.
Nicole

Killian

's work uses graphic design, publishing, video, objects, and installation to investigate how the structures of the internet, mobile messaging, and shared online platforms affect contemporary interaction and shape cultural identity from a queer perspective. She is interested in the repetition, looping, and dissemination of content. She thinks about catnip and bird toys, scratching and the depths (or voids) of the desktop folder.
Nicole appreciates a good karaoke performance and is co-creator of annual publication ISSUES with Sarah Faith Gottesdiener. She is currently co-director of the Design, Visual Communications MFA and Assistant Professor in the Department of Graphic Design at Virginia Commonwealth University. She recently served as guest editor for the Walker Art Center's Soundboard and organized How Will We Queer Design Education without Compromise?