Inside Out & Upside Down: Posters from CalArts 1980-2019 gets ready for release at the opening of REDCAT show on April 4th, 2020.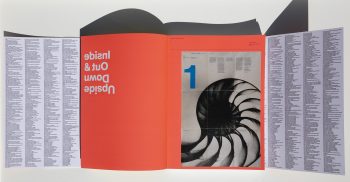 Printing has been completed for IO&UD the 400 page book of CalArts posters! Three preview/approval copies arrived in Los Angeles, the rest are currently being shipped and will be ready for the book launch on April 4th at REDCAT. The accompanying exhibition also opens April 4th, and contains fifty years of posters from the poster archive, from 1970 to 2020.
The book includes over 500 posters, with 70 different covers by students, alumni and faculty. It features essays by Colin Frazier, Sarah Gottesdiener, Ian Lynam, Jennifer McKnight, and Louise Sandhaus, plus interviews with Mark Allen and Gail Swanlund; Kary Arimoto-Mercer and Shelley Stepp; Ed Fella, Jeffery Keedy, Lorraine Wild, and Michael Worthington; Yasmin Khan Gibson, Jérôme Saint-Loubert Bié, and Jon Sueda; Daniela Marx and Tuan Phan; Joe Prichard, Stuart Smith, Gail Swanlund, Scott Taylor, and Michael Worthington.
The book will on sale April 4th, available at the exhibition, through REDCAT and through online booksellers and the poster archive at posters.calarts.edu.