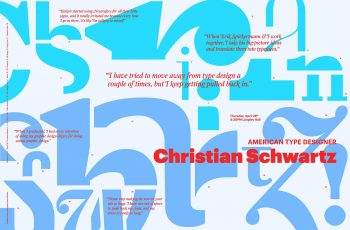 The design department was extremely lucky to have type designer Christian Schwartz not only give a fantastic lecture but to also lead a group critique of new typefaces created for Greg Lindy's current Digital Type Design class.
Christian Schwartz is an American type designer and partner, with London-based designer Paul Barnes, in the type foundry Commercial Type.
He has published fonts with House Industries, Emigre, FontFont, and Font Bureau, and has designed proprietary typefaces for corporations and publications worldwide. Christian's custom typefaces for clients include Esquire, the Empire State Building, The New York Times, and Condé Nast's business magazine Portfolio.
His work has been honored by the Cooper-Hewitt National Design Museum, the New York Type Director's Club, and the American Institute of Graphic Arts, and in 2007, Schwartz was awarded the prestigious Prix Charles Peignot, given every four or five years by the Association Typographique Internationale to a designer under 35 who has made "an outstanding contribution to the field of type design".